$90 (60 min) $125 (90 min) +$45 travel fee for in-home service
The childbearing year can be a time of intense physical, emotional & spiritual transition. Massage helps alleviate many associated discomforts, and encourages a sense of relaxation and inner peace that is beneficial to both you AND baby!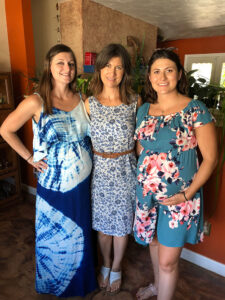 If there is any time of life when massage really "makes a difference", it is during pregnancy and the postpartum period. Studies have shown that the world's most peaceful cultures give touch freely during pregnancy and early childhood. Because there is a direct relationship between a pregnant or new mother receiving touch, and her tendency to bond with, and give more touch to her baby, massage during this stage literally has the ability to help facilitate a more peaceful world through encouraging nurturing relationships between mother and child! A mother's stress levels directly impact both her own physiological state, as well as the development of her fetus. Receiving massage during pregnancy and the postpartum period can relieve physical discomforts, as well as alleviating the stress and anxiety that can accompany this hugely impactful time of life. The sensation of full body relaxation is also invaluable preparation for labor and birth. For a new mother, so many physical and emotional changes are taking place as her body gradually returns to its "normal" state, and she adjusts to new roles and responsibilities. Hormonal changes can accentuate anxiety, and the stresses of taking care of a newborn can be as draining as it is joyful. Miriamah's background as a birth and postpartum doula, as well as her experiences as a mother of three and grandmother of six have given her a keen sensitivity to these phases of life, and her studies with two of the preeminent prenatal massage teachers/methodologies, Elaine Stillerman and Carole Osborne, contributed to her solid foundation of knowledge, wisdom, and skill.